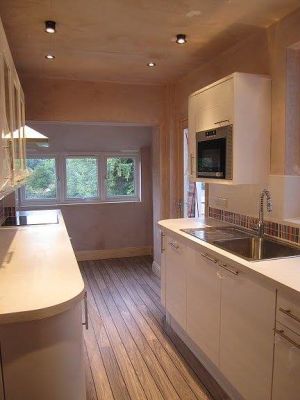 There are loads of people out there who are worried about making the decision between wood, tiles, marble or vinyl in the kitchen area, so in true Wood and Beyond style, we want to give you all the wood floor in kitchens 'nitty gritty', so you can make the decision for yourself.  Here are some of the things we think you should consider:
Durability.  Many people worry that wood flooring will be less durable than the likes of tiles or vinyl, but the reality is that with wood flooring, not only will it stand up to your traffic, you can also re-sand and refinish it a number of times in its life.  What this means is that if your wood floor does start to look a bit tired, you can bring it back to life with a bit of effort, and you can't say that about tiles or vinyl, can you?
Comfort.  We've also had a few people recently worrying about how comfortable wood flooring is likely to be under foot.  To be honest, wood flooring, no matter whether it's engineered or solid, should be cosier under foot than tiles or marble.  Arguably marginally colder than vinyl, the only thing that'll beat wood flooring hands down is carpet, but carpet in a kitchen in 2014, is that really what floats your boat?
Price.  Price is an issue for almost everybody right now and quite rightly so.  When it comes to comparing either tile, marble, vinyl or fake wood flooring with the real thing, if you shop around carefully, you should be able to track down a wood flooring option that will work perfectly in your kitchen, without over-stretching your budget.
Options.  When it comes to choice, there are tons of wood flooring solutions available on the market today.  No matter whether you want a light white, a dark, almost black or something in between, the choice is there.  There's also a ton of different finishes that will give you an old, distressed look, an almost zebra stripe look; the choices are enormous.  OK, so there isn't fluorescent pink, but if that's what you fancy, then wood's probably not for you ☺.
Pets.  People with dogs and cats often worry that wood floor will get more damaged than other options.  Like any flooring option, it's a case of being sensible.  Keep your pets' claws well clipped, dry them when they come in from the wet and protect the floor under water bowls and you'll be completely fine.
Kids.  Kids can play havoc with floors and furniture without even meaning to.  Just the way they enjoy themselves and play can cause inadvertent damage, but if you keep an eye on activities then child-related wear and tear should be no greater on a wood floor than any other surface.  Make a point of mopping up spills and (naturally) keeping sharp objects at bay and you should be fine.
Get creative.  If there are areas in your kitchen that suffer particularly from splashes or moisture, you could consider combining a bit of marble or a few tiles around a sink or cooker to create a nice effect.  That way you can be calm about your activities and have a practical, great-looking and original floor at the same time.
Access points.  If you are worried about leaks and plumbing, what you should do when you fit your wood floor is make sure that there are easy access points to vulnerable areas.  A good wood floor-fitter will make these points unobtrusive and they won't spoil the look of your floor, but will be really effective in an emergency.
Maintenance.  The secret to keeping the wood floor in your kitchen looking great for longer is to make sure it is regularly vacuumed and lightly mopped.  Apart from that, investing in good quality door mats and mopping up spills are also important.  When it comes to big maintenance, you can always re-sand and re-finish your floor every few years if it takes a real hammering for one reason or another.
Look.  At the end of the day, if you want a wood floor, there truly is no alternative and a quality engineered wood floor in your kitchen with the right care should stand you in great stead for a very, very long time.
If you'd like to discuss the use of wood flooring in kitchens in more detail, feel free to get in touch with us.  We're always happy to help you make the right decisions for your project.
Original article date Nov 28th 2011, updated October 24th 2014.