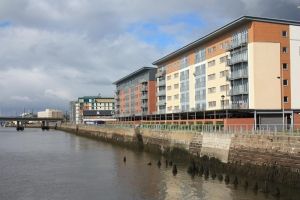 If you're thinking of installing hardwood flooring in a detached house, the only people you need to consider are yourself and your family.  That said, if you live in a terraced or semi detached house, you may also need to take into account your neighbours.  Anyone planning to install wood flooring in a flat or apartment however, on the other hand, absolutely must take their neighbours into account when making the decision to install wood flooring.
If you decide to install wood flooring in your flat or apartment and you have downstairs neighbours, it is your duty to take their comfort and wellbeing into account.  Blocks of flats and apartments are subject to building regulations and lease agreements, which can enforce tenants to respect certain conditions for the consideration of their neighbours.  They also have penalties which can be applied if people don't respect their neighbours in this regard.
Generally speaking, if you have downstairs neighbours, then you owe it to them to take into account the amount of noise they are likely to over-hear from your apartment or flat.  If you are planning to remove carpeting for example and install wood flooring, without the right precautions the noise will be increased.  It is your duty to make sure you minimize the noise pollution that is transmitted from your flat or apartment to theirs.  Building Regulations Approved Document E (2003, with various updates since), outlines the technicalities of this obligation, but generally speaking you need to apply a good deal of common sense when thinking about installing wood flooring in flats or apartments.
A suitable wood floor option for flats and apartments is the installation of engineered wood flooring, using the floating method of installation over a sound-proofing acoustic underlay.  There are various types of acoustic underlay on the market and your flooring supplier will be able to advise you on the most appropriate for your project.
The Building Regulations Approved Document E (2003, with updates) refers to newly built blocks of flats and apartments as well as properties that have since been converted into flats or apartments.  It does not apply to blocks of flats or apartments which existed before the introduction of this legislation.  That said, If you are in any doubt about your noise reduction obligations you should check with the management committee or residents association responsible for the overseeing of your accommodation.