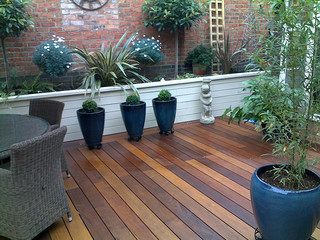 Whether you're planning to maintain your existing deck or have just installed a new deck, it's really important to choose the right product to protect your wood and keep it looking its best for as long as you possibly can. Essentially, there are four commonly described types of decking treatment, they are: decking oil, decking stain, decking paint and decking preservative.  Although they all perform slightly different jobs (which we explain below) their common goal is to make sure you have a deck to be proud of.  Here's an overview of each of the treatments we've described to help you decide what might work best for your particular project:
Decking oil. Decking oil, as the name suggests, is an oil based decking treatment which allows all the natural beauty of your wood to shine through.  A good quality decking oil will protect your deck at the same time as reviving and restoring its colour.  Decking oils come in a range of colours, including clear and can dramatically change the colour of your decking if you're not careful.  It is for this reason that it's recommended to try any new colour of decking oil you plan to use in an inconspicuous part of your deck before attacking the whole deck and regretting it.  Oils with UV filters are also available for anyone who might be concerned about the effects of the sun on their deck.
Decking stain. Decking stain, as you'd imagine, is intended for use by those people seeking to change the colour of their deck.  Available in either a straight colour-altering option or as a stain and seal option, decking stain comes in a range of colours to suit your requirements.  The advantage of a stain and seal decking product over a straight stain is that your wood is coloured and protected in one single treatment.  Normally requiring 2-3 coats, a stain and seal deck stain will either have a matt or satin finish depending upon the product you choose.
Decking paint. Although commonly used in the United States, decking paint is thought by some European purists as being quite a drastic option when it comes to treating your deck.  Deemed by some as completely sacrilegious, depending on the condition of your deck and your desired look, with a bit of planning, decking paint can be a good solution.  The main issue with painting a deck is keeping it looking good as weather and time take their toll.  If not properly finished, a painted deck has a tendency to peel and look worn quicker than, for example, an oiled deck.  Although you can help prevent this deterioration by introducing a high quality deck sealer to your project, painting a deck does appear to be a bit of an ongoing battle.
Decking preservative. Decking preservative is the generic term used to describe any specialist decking product which is designed to protect the wood.  Generally speaking the list will include oils and seals.  Which you choose will depend to a large extent on the final finish you're hoping for and the condition of your deck.  As with all products, if you're in any doubt as to which decking preservative might best suit your specific needs for your project, you should always double check with your decking supplier or a trusted DIY shop.
Image by flickr under cc licence.