[caption id="attachment_496" align="alignright" width="300"]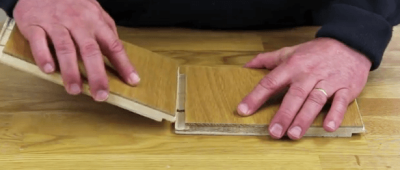 Click (Or Lock) Wood Flooring[/caption]
When making decisions on a new flooring project, many people struggle with the choice between tongue and groove and click system flooring.  Ascertaining which system will work best for your needs depends to a large extent on the characteristics of your specific project.
Tongue and groove wood flooring is made up of planks, each of which feature a tongue and a groove.  The grooves on tongue and groove wood flooring planks are cut into one long side and one short side and the tongues stick out on the other two sides. In its installation, tongue and groove wood flooring can either be secret nailed, glued down to a suitable sub floor or laid in a floating installation.  When fitting a tongue and groove wood floor, the idea is to fit each tongue into each groove.  Once installed, a tongue and groove wood flooring system results in a smooth and long lasting finish.
Click, or lock wood flooring as it's sometimes known, is a relatively new to the market wood flooring option.  Essentially a way of covering existing flooring (but not uneven wood floors or carpet), it gets its name from the fact that the boards used in its construction process "click" (or lock) together, removing the need for fixing using nails, staples or glue.  In fact, click (or lock) flooring is often portrayed as one of the simplest, most straightforward ways of installing a wooden floor, particularly on a DIY basis.
Installed using a floating method, click (or lock) flooring is very similar to traditional tongue and groove wood flooring but has the additional feature of an interlocking profile around its edge which enables the boards to be clicked, snapped or locked together.  The most common and most popular click or lock flooring systems are either made from laminate or engineered wood.  Laminate floors are not made of wood.  They are made from wood boards that are covered with a printed, paper finish.  They are made to look like the real thing, but aren't.  It is still relatively rare to find solid wood click (or lock) flooring.
The main attraction of click (or lock) flooring is its ease of installation, making it particularly attractive to the DIY market.  Tongue and groove wood flooring, on the other hand, when installed by a professional, will result in really impressively low wastage (as low as 5% in some instances), which means that you benefit from minimum waste and maximum coverage per m2 bought as well as a really great end result.