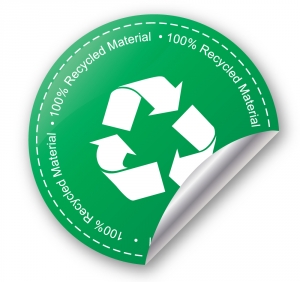 If you're keen to find a recycled wood flooring solution for your project, being honest you're going to struggle.  The closest you're realistically going to get is the choice between a reclaimed floor, or at a push, a new floor that is Forest Stewardship Council (FSC) accredited, or at least manufactured from a non endangered wood species.
Reclaimed flooring as a "recycled" solution
Reclaimed flooring is fast becoming one of the most popular flooring options, particularly with people who are eco-conscious.  The great thing about reclaimed wood flooring is that you can install your new floor knowing that you've created a Zero Forest Footprint, because the wood has already been harvested and has enjoyed a previous life in another location.  Quite often, you'll find that reclaimed floors have come from interesting places, such as school gyms, dance halls or even stately homes, so they have a really intriguing story to tell.
When it comes to sourcing and buying your reclaimed wood flooring you have the choice of either aiming to go directly to someone who is taking up their old wood floor to replace it with an alternative option, or you can buy from a reclaimed flooring supplier.  Because reclaimed wood flooring is now so popular, there are any number of suppliers who are satisfying the growing demand.  One thing is for sure, and that's if you go to a supplier you'll get a broader choice of flooring options (board width, wood species etc), than you will if you wait for someone to happen to be selling the sort of floor you want.
Reclaimed flooring options run from the standard to the really special and the price tag depends, to a large extent, on the species, specification, quality and condition of the floor, as well as any unique features it may possess.  Wide boards and unusual species of wood will typically attract a higher price tag than standard width oak boards, but no matter what you're looking for, it's essential to shop around.  Just one word of warning though, and that's, when selecting a reclaimed flooring solution, it's well worth weighing up the pros and cons of a new floor versus reclaimed.  Often, reclaimed flooring won't come with any guarantees or warranties (depending on the supplier), whereas a new floor, sourced from a professional and trusted supplier, will benefit from a range of peace of mind guarantees.
If you decide to opt for a new floor and you're keen to retain some eco-focus for your project, then you could salve your conscience to some extent, by choosing a non-endangered wood species, although many purists would argue that any wood choice is endangered.  Certain species, such as selected pine woods, selected ash woods and to some extent bamboo, with a bit of research, should provide a relatively conscience free option.  That said, in order to be completely certain that the wood for your new floor has been grown, managed, developed and harvested with a conscience, you should make sure you choose an FSC accredited option.
FSC accreditation means that you can rest assured that the forest from which your wood was sourced is well managed; from a social, economic, ecological, cultural and spiritual viewpoint at the same time as paying respect to present and future generations in all its dealings.