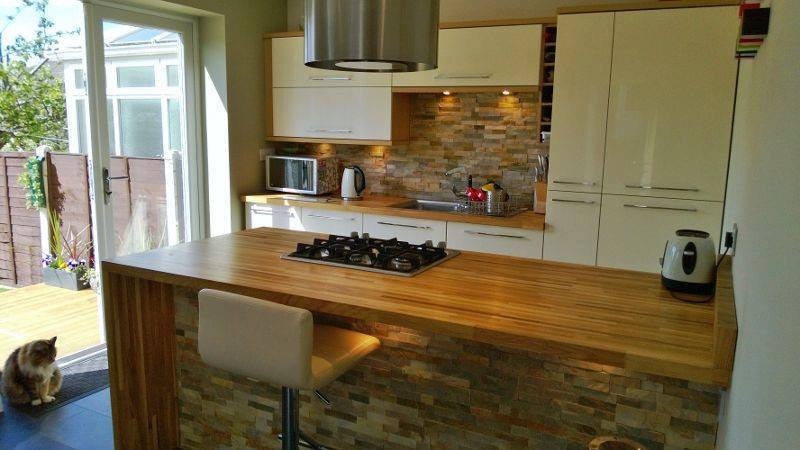 Kitchens are big news these days. No longer are they just the place where you prepare lunch, dinner and bake the odd cake. Kitchens really are the hub of most of our homes and choosing the right fixtures and fittings is essential if you're going to achieve the look you're hoping for.
How to choose between prime or rustic worktops is a question our clients ask us on a regular basis. In this article, we want to share with you some of the pointers that the people we've helped say struck the biggest chord with them, but before we start, let's think about the great qualities of wood worktops in general.
Why wood worktops?
The first thing to say about wood worktops is that they are completely timeless. No matter whether you're keen to create a state of the art kitchen using a combination of stainless steel, glass and wood or a real country kitchen look, a quality wooden worktop compliment your choice perfectly. We'd even go as far as to say that there are few other worktop options that have been in vogue for so long, or that have stayed amongst the top choices for decades.
A great way to make your kitchen look its best, as well as a practical and natural looking solution, wood worktops really will help bring your kitchen bang up to date.
Wood worktop grades
When you shop around for wood worktops, you'll soon discover that you're faced with four grades: prime, select, natural and rustic. Which grade each piece of wood that is lumbered falls into will depend on three key elements: the number and size of knots that are visible in the wood; the colour variation you can see, and the amount of sap contained in the wood (which you normally can't see).
Generally speaking, the fewer the knots, the more uniform the colour and the lower the sap content, the higher the grade of wood. But don't get us wrong, high grade wood doesn't necessarily mean better or more expensive; it simply means that it looks different. So, with prime at the top of the list and rustic at the bottom, if you're in the market for a wood worktop, how do you choose?
Prime grade wood worktops
Prime grade wood worktops are right at the top of the range, boasting only a small number of small knots, a low level of sap and a highly uniform colour. The likes of this prime (or premium) grade oak wood worktop is completely stunning and truly looks the part in a cutting edge, designer kitchen where you want it to look a million dollars without having to break the bank to pay for it.
Rustic wood worktops
One of the most appealing things about rustic wood worktops is the price. With a range of often large knots, a variety of colour and sometimes substantial sap, rustic grade wood isn't for everyone, but if you've excluded it without giving it real consideration, today's the day to think again. Used with imagination, rustic wood worktops like this one, can look absolutely stunning in the right setting because they're full of interest and charm.
Getting the look right
If you're planning your worktop right now and you think that you are shooting for the stars by only considering prime grade solutions, we'd encourage you to think again. We'd ask you to think about how you could broaden your choices and still get the look you're hoping for.
By mixing and matching the right kitchen cupboards with some really stylish accessories, even a budget rustic wood worktop can look absolutely fabulous. And the great news is that you don't need to invest a fortune in getting the look right, all you need is a bit of imagination and a couple of key pieces to make your kitchen look like it belongs in one of those cutting edge interior mags!
Why not ask us for a free sample or come into our London Golders Green showroom to see for yourself? Or if you want to cast your investigative eye a bit further, search on Google images to get some inspiration. And don't hang about, at the time of writing we've got a great offer – with 25% off all wood worktops!