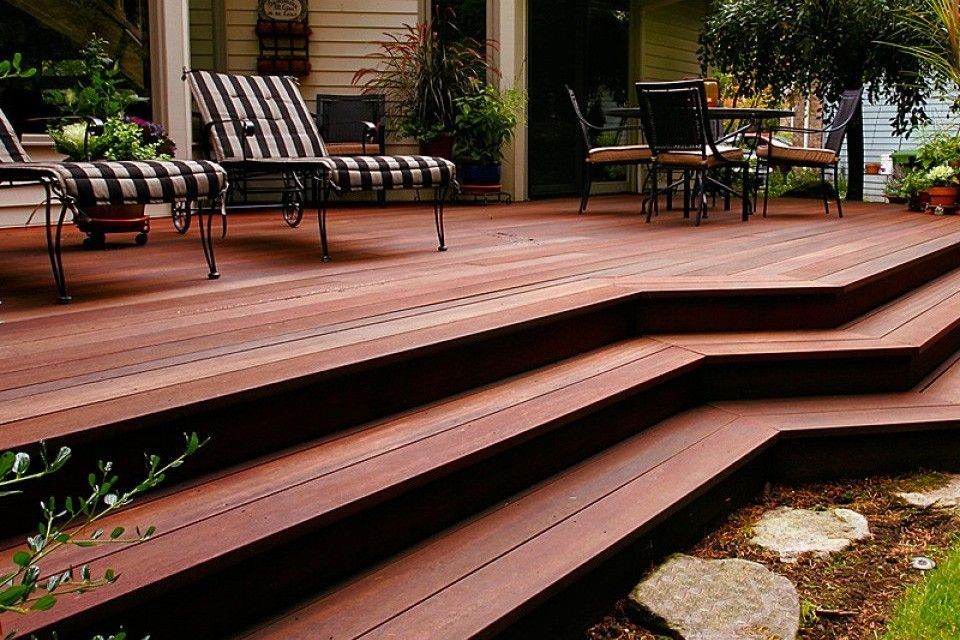 A wooden outdoor eating or lounging area is a great addition to your outdoor space.  Enabling you to effectively create a terrace, which you can furnish either with a table and chairs, or with outdoor lounge furniture, this sort of arrangement really lets you live the desirable indoor:outdoor lifestyle we're all yearning after.  Wooden flooring and decking have become hugely popular over the past ten or fifteen years and both are highly sought after options, but you do need to make the right choices when choosing your wood, or you could end up with problems.
There are essentially two options when it comes to fitting wooden "flooring" outside.  The first is to go the traditional and conventional outdoor decking route and the other is to attempt to lay a floor, in the same manner as you would inside, but outdoors.  The difficulty with trying to lay an actual floor outside, as you would guess, is the vast temperature and moisture fluctuations the floor is going to have to deal with.
Wood, by its very nature, is a product that expands and contracts as it gains and loses moisture and has to deal with temperature highs and lows, both day-by-day and season-by-season.  This expansion and contraction in wood is completely normal and is usually allowed for when fitting a wooden floor indoors, by including a small expansion gap.  Outdoors however, because moisture and temperature changes can be so extreme, it's hard to identify a wooden flooring product that would survive these challenges.  Whilst there are some hardwoods that might, such as ash, oak and cherry, it's best to be wary of expecting great results from an outdoor wood floor, no matter what promises are made by the supplier.
Many companies promote what they call outdoor wood flooring, but in actual fact, what they are proposing is decking for your outdoor projects.  Decking is effectively wood "flooring" which has been produced with the intention of spending its life outdoors.  It is normally treated to withstand, to a large degree, the challenges of temperature and moisture that outdoor life throws at it.
If you want to lay a deck, or an outdoor wooden floor directly on the ground, you'll need to create a solid framework on which to build it.  You may either choose to lay a concrete base or you could build a wooden framework on which you will lay the deck.  Either way, you'll need to be careful to make arrangements for rainfall and moisture to drain away, rather than sit on the surface of the wood.  Any moisture left sitting on the wood will play havoc with the wood and will cause it to warp, buckle and rot, way before it would do otherwise.
One thing you can do to protect whichever type of wood you choose for your outside space is to make sure you choose an appropriate finish.  Ideally, you need to choose a finish which will help render your outdoor wooden flooring or deck as water resistant as it can be and that will also help it stand up to the sunlight it's going to encounter, all year round (even winter sun can cause deterioration in wood).  Furthermore, if you've chosen a dark coloured wood, a UV filter in your wood finish will help the wood to retain its deep colouration.