Staining worktops is not generally recommended for a number of reasons.  First, worktops change colour naturally with time and use and are normally best left in their natural state colour-wise, with only a good quality oil finish.  Second, because your worktop is likely to come in contact with food, you need to be really careful when it comes to applying a stain.  Although there are toxicity standards which must be respected when it comes to ascertaining the safety of wood stains and varnishes in food-related environments, this whole area is a bit "hit and miss".  If you do decide to stain your worktops, with a bit of research, you should be able to track down official guidelines on the suitability of any product you plan to use.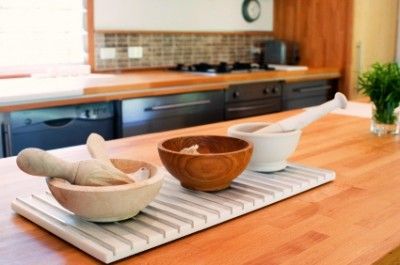 It is absolutely essential to carry out appropriate toxicity research prior to applying any stain to your worktop.  Even once you have carried out this research, if you are still in any doubt whatsoever about the suitability of any product, you should consult your worktop supplier who will be able to guide you.
Notwithstanding these risks, if you are adamant that you want to change the colour of your solid wood worktop or to breathe new life into a wood worktop, an appropriate, safe stain can be a good way to achieve a result.  Wood stains come in a whole host of colour options, so no matter whether you're looking for a natural wood tone or a funkier colour option, with a bit of research you should be able to track down a wood stain to suit your needs.
It is important to make sure you do a colour test before you embark on an overall covering of your worktop.  Testing stain colour results is essential because different woods will take on different tones when stains are applied.
The ideal place to test out your stain is on the underside of your worktop in a location where the colour won't be seen if you don't like it.  If you find that the colour you've chosen is too dark, you can dilute your stain to make it lighter.  A good idea is to work with a mild dilution to start with and dilute the stain more and more until you achieve the result you're looking for.  Each time you do a test, it's worth noting (lightly, in pencil) next to the test area the dilution proportions of that patch.  This will help you make sure you are able to reproduce the result of the colour sample you like best.