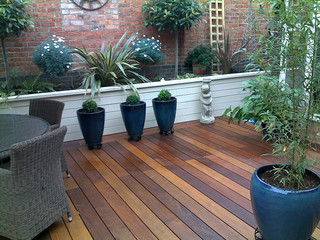 If you have either inherited hardwood decking in a new home you've just bought, or your hardwood decking is looking a bit tired, it could be time to restore it.
Here are 4 simple steps to getting your decking looking great again:
Check to see if your deck has a surface coating, such as a varnish or lacquer. If your deck does have a surface coating or finish, you'll need to start by stripping away that coating.  You need to remove the old coating to get access to the wood to give it a really deep-down clean.  If your deck doesn't have a surface coating or finish, you should start your restoration process with a thorough clean (see step 3. Below) because uncoated wood is likely to have a covering of dirt, grime and fungus which needs to be removed before a new finish can be applied.
If your deck has a varnish or lacquer, it's important to use a specific deck stripper which is suited to the particular finish on your deck.  If you are in any doubt about the finish on your deck, or which stripper would best suit your specific project, a good deck supplier or DIY shop will be able to help.
Once you have exposed the bare wood of your deck, a power washer or a solution of general purpose deck cleaner and a stiff brush should be used to remove all traces of dirt and fungus to expose the clean wood underneath.
Once your wood is as clean as you can get it, it's time to apply your chosen sealer, stain or coating to protect the wood.  It is important to choose protection which will help your deck withstand the weather conditions it comes up against.  When choosing the right finish for your deck, it's worth deciding what sort of finish you want and also whether or not you want to protect your deck from discolouration caused by the sun.  Either way, it's important to protect the wood from water damage, fungus and insects.  Once again, if you are in any doubt about the most suitable product to protect your deck (eg.  if you live in an area with extreme weather conditions or specific risk of insect attack), ask a decking expert for specific guidance for your project.
As with all projects involving paints and chemicals, be careful to follow the manufacturers instructions for use and respect all Health and Safety guidelines to the letter.
Image by flickr under cc licence.