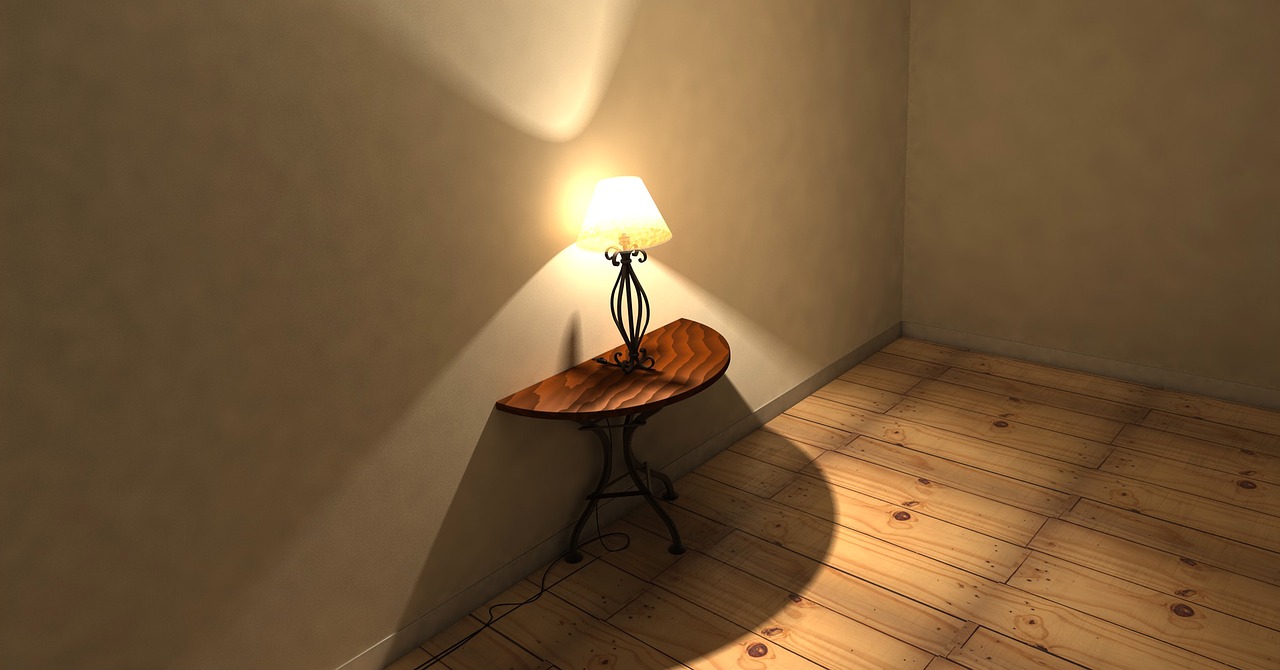 Honey oak flooring is in big demand right now, and it's not just a winter/spring trend. The signs are that this is a craze that's with us to last.
There are few things nicer than coming home after a hard day's work and relaxing in a comfy, cosy room. And there are few better ways to create the perfect backdrop to all that than with honey oak flooring. At Wood and Beyond we're huge fans of wood as you can imagine, and the current trend towards honey tones has got us quite excited.
We currently have a range of floors in stock that would fit into the 'honey oak flooring' category nicely. Most are suited for use throughout the home and will add cosyness and comfort to any room you choose. However, if you plump for the solid wood floor we mention, just be sure not to fit it in bathrooms or kitchens, because it's not ideally suited to those environments.
Light honey oak flooring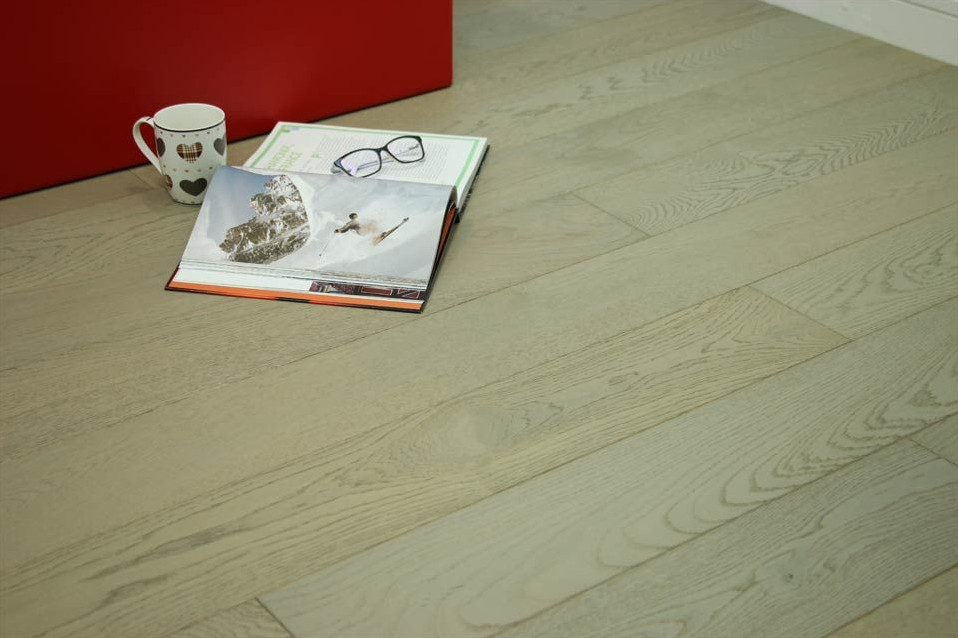 If you're looking to create a cosier lounge or bedroom, but still want a light feeling to your room, this really light natural engineered oak floor that's actually called grey is for you. At the very lightest end of the honey spectrum it looks as if it has been virtually left untreated. That said, the oiled finish means that it'll stand up to everyday life, even in a busy household. An almost clear honey colour, this oak flooring will add cosyness and charm to any room in the home.
Honey with a marbled effect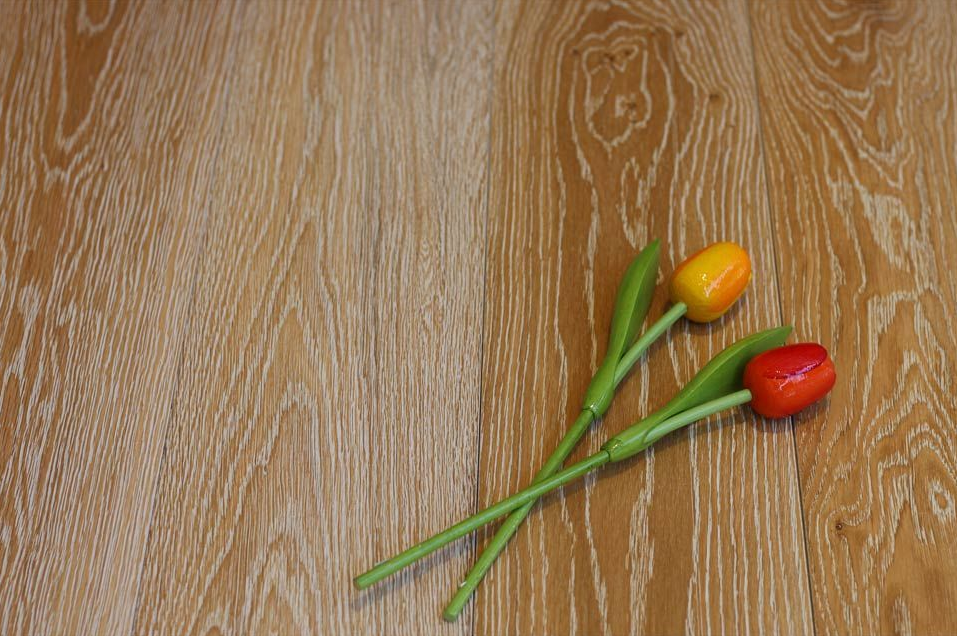 Both of these options are honey coloured but with a difference. They have an almost marbled effect, one with light marbling and one with dark. Imagine honey with a touch of cream and honey with a touch of melted chocolate and you'll get the idea perfectly.
This marbled effect, engineered oak white washed floor is cosy and warm feeling but still has a light and interesting edge to it. We've seen this floor used to great effect in pretty much every room of the home, but in a recent project we used it in a huge lounge, diner and kitchen space and it was simply stunning!
And if you want a solid oak solution, this natural solid oak extra grey brushed hardwax oiled floor is for you. Although this floor isn't suited to kitchens or bathrooms, you can use it throughout the rest of the home and not only is it exceptionally good looking, it's exceptionally well-priced too. Its warm honey tones are interrupted by the naturally dark grain in the oak, which leaves you in no doubt that this is a solid, top quality floor. An option that'll last a lifetime (and probably a whole lot more), you will get an awful lot of pleasure from this floor for an awfully long time; which makes it a great investment.
Dark honey oak flooring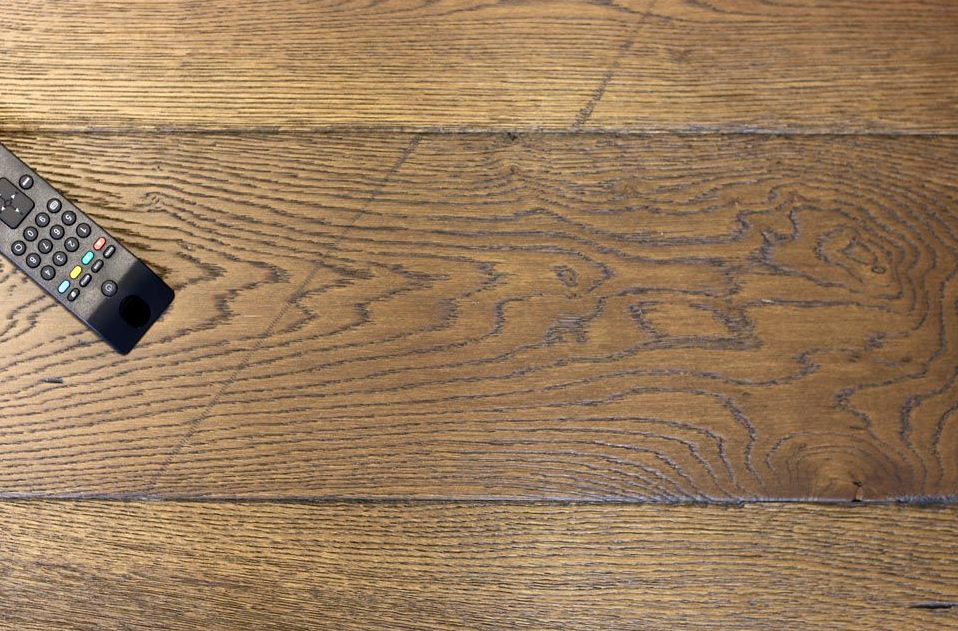 If you're looking for something at the darker end of the honey scale, these dark honey coloured, engineered oak reclaimed floor are stunning. A reclaimed look floor, you'd swear it had been recovered or reclaimed from an old factory, pub or castle. The ageing process it has gone through is so convincing that it'll have even the purest of cynics fooled. Again, you can use this floor throughout the home to great effect and be the envy of all your friends and family.
And finally, this very dark honey, natural engineered herringbone floor that's been brushed and UV oiled is likely to float your boat if you want something really different. Inspired by the ancient chateaux and castles throughout Europe, this herringbone floor just screams style and class. A very, very dark honey colour it will never date and will set off modern or traditional furnishings to a tee.
If you're looking for the right floor for your project but you need a helping hand, why not get in touch? At Wood and Beyond we have tons of ideas about how you can make the most from your wood flooring investment. All you need to do is pick up the phone or pop into our Golders Green showroom and we'll happily share them with you.