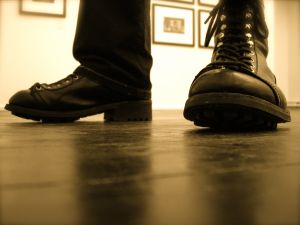 It is common when installing a new floor to ponder over the pros and cons of hardwood floor versus laminate flooring.  More often than not, this decision can end up really confusing, so it's well worth defining exactly what is meant by laminate flooring and what is meant by hardwood flooring.
Laminate flooring is a synthetic, man made product which is made up of various layers which are fused together using a lamination process.  Hardwood flooring on the other hand is a completely natural product, no matter whether it is solid wood flooring or engineered wood flooring.  Solid wood flooring, as the name suggests is planks made from one piece of wood, whereas engineered wood flooring is made up of layers of various types of wood which are topped with a hardwood layer to make the product look like solid wood.
Laminate flooring is commonly thought of being a cheaper option than hardwood flooring, but this is not always the case.  Furthermore, although laminate flooring can cost about the same as hardwood flooring it comes with fewer benefits.  Hardwood floors, for example, can be repaired if they happen to become damaged and they can be refinished if you want to change the look of your room.  This is not the case with laminate flooring.
What's more, the life expectancy of a hardwood floor is estimated to be up to four times the life expectancy of a laminate floor.  So, if you plan to stay in your home for a long period, any savings made at installation by choosing laminate rather than hardwood could prove to be false economy in the longer term.
For anyone who is concerned with the effect of toxins in the environment, laminate floors aren't a great option either.  Laminate floors use volatile organic compounds (VOCs) in their manufacture.  These VOCs are toxins which pass into the air at room temperature.  Hardwood floors do not use VOCs in their manufacture, which means that by choosing a hardwood floor, you are choosing not to expose yourself or your family to toxins in the air emanating from your floor.
It is commonly claimed that hardwood flooring will add appeal, saleability and even value to your home, whereas it is unlikely that the same can be claimed for laminate flooring.  Finally, and arguably the most significant benefit of hardwood flooring versus laminate flooring is that hard wood flooring is the "real deal", whilst laminate flooring is an artificial alternative which is trying to look like the real thing.