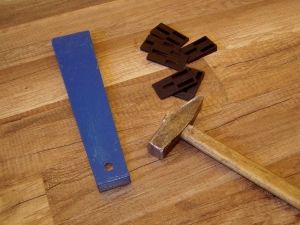 Concrete or concrete screed floors are arguably one of the most common surfaces on which to fit hardwood floor.  It's perfectly possible to fit solid or engineered hardwood flooring to concrete.
Solid hardwood flooring, as the name suggests is made from planks, which are made from one single piece of wood, for example, oak or walnut, whereas engineered hardwood flooring is made up of a combination of wood and other materials.  Engineered wood takes the form of three layers of hardwood plus a layer of plywood or MDF, which is then finished off with a layer of hardwood.  Because of the make up of the top layer of engineered hardwood flooring, the look of both solid and engineered hardwood flooring is pretty much the same.
There are several ways of fitting a hardwood floor to a concrete sub floor, these include: floating, gluing and nailing.  Here's a useful overview of each method:
Floating - A floating floor is a floor that is neither nailed nor glued to the sub-floor.  The only place glue might be used in this instance is between the tongue and the groove. In a domestic situation, a floating floor might be laid over a sub-floor or over an existing floor after laying an appropriate underlay.
Glued – Fully glued floor fitting is arguably amongst the most popular choice for fitting a wooden floor in this day and age.  To glue a wooden floor, a full coverage of flexible wood adhesive is applied to the sub-floor and the boards are placed directly on top.  A glued floor will feel as solid as a nailed floor as well as allowing for expansion and contraction (due to the flexibility of the glue).  Furthermore, when used on top of underfloor heating (UFH) this method will also prevent the appearance of air pockets.
Nailed – Nailing is the traditional method used to fit wooden floors.  Nailing generally involves what is known in the trade as "secret nailing".  Secret nailing means putting nails through the tongue of the wooden boards.  Those nails are then covered when the groove is butted up to the secured board.
It's really important when fitting hardwood flooring to an existing concrete sub floor that the sub floor is in good condition and has appropriately low moisture content.  The moisture content of a concrete sub floor should be no more than 8%, and ideally less.  If you find that the moisture content of your concrete sub floor is above this level it would be well considering investing in an appropriate damp proof membrane, no matter which fitting method you choose.  This will not only help the stability of your floor, it means the floor will stay looking its best for longer.
There are two specific instances whereby a damp proof membrane should be used as standard.  One is when you're planning to glue down your hardwood floor to the concrete sub floor and the other is when you're chosen a floating method of fitting. In the case of gluing the floor, a liquid damp proof membrane should be used in conjunction with a suitable adhesive.