There's real confusion between engineered wood flooring and laminate flooring.  It's really common for people to mistakenly assume that they are one and the same thing.  In fact this couldn't be further from the truth.  While both of these flooring options have their pros and cons, confusing one with the other is like confusing apples with pears.  If you're in a situation where you're almost tossing a coin between engineered wood and laminate flooring, it's time to get down to the nitty-gritty of the differences.
In this article, we'll start by briefly defining what's meant by the different terms, so you're clear about what you're dealing with.  Thereafter, we'll look at the pros and cons of each in terms of cost, ease of fitting, life expectancy, visual impact and so on.  So here goes.
Engineered wood flooring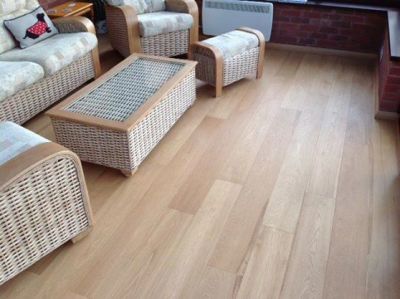 Engineered wood flooring is a man made product that is made from natural materials.  Commonly made up of layers of ply that are bonded together, engineered wood flooring is always topped off with a layer of solid wood.  This layer of solid wood is called the lamella or top layer and it's thanks to this solid wood finish that engineered wood looks so convincingly like solid wood.
Engineered wood flooring has the advantage over solid wood that its stable structure means that it is much more resistant to expansion and contraction than solid wood.  What this means is that it can safely be fitted in rooms where temperature and moisture fluctuations are significant, like bathrooms and kitchens.  Engineered wood flooring can also be installed over under floor heating.
Laminate flooring
Laminate flooring on the other hand is a synthetic, man-made product that is made up of various layers that are fused together using a lamination process.   Laminate flooring is a relatively recent addition to the range of flooring options available on the market and made its first appearance in the late 1970s.  It originally launched as a competitor to vinyl flooring.  Made up of typically five (or fewer layers), laminate flooring can be made to look like any material the manufacturer wants, because effectively the layer which makes up the image is just that, an image.
Cost comparison
Laminate flooring is often thought of as a cheaper option than engineered wood flooring.  While it is possible to pick up seriously cheap laminate wood flooring, it is not the case across the board that laminate wood flooring is cheaper than engineered.  What's more, when you take into account the fact that engineered wood flooring is likely to last significantly longer than
laminate flooring, savings made at the start soon disappear as time goes by and floors need to be replaced.  It's also worth remembering that many laminate floors require investment into an additional layer of underlay to make the floor stable and look good and this element can significantly increase what appears to be a low cost floor at the start.
Ease of fitting
Both engineered and laminate wood flooring are simple and easy to install.  Each lending themselves perfectly to both glue down and floating fitting methods, there is little difference in expertise required to fit one rather than the other.  What you need to remember is that a badly fitted laminate floor will look as awful as a badly fitted engineered wood floor.  So, from that point of view it may be the case that you need to pay for installation to get it right on either count.
Maintenance
Both flooring options are easy to clean.  Each option only needs a regular vacuuming and, in the case of engineered wood flooring a light, moist mopping on a regular basis.  With laminate flooring, you can afford be a bit more enthusiastic with your use of water, but apart from that, you shouldn't find much difference between the two when it comes to ongoing maintenance.
When it comes to significant maintenance, this is where the differences become really apparent.  With engineered wood flooring you can re-sand and re-finish your floor a number of times during its lifetime.  How often you'll be able to do this will depend on the thickness of the lamella or top layer, but you can safely assume that with most quality engineered wood floors you can have your floor looking brand new at least 3 or 4 times during it's life.  This simply isn't possible with laminate flooring.
Choice
Suffice to say that, like most things these days, there are hundreds, if not thousands of each flooring option available on the market today.  So, when it comes to choice, you'll be spoilt on both counts.
Life expectancy
This is one of the most significant differences between the two flooring options.  In very general terms when you buy a laminate floor, you can expect a maximum life expectancy of around 20 years, whereas a quality engineered wood floor should last for up to 75 years.  This simply has to be taken into account when making your decisions.
Visual impact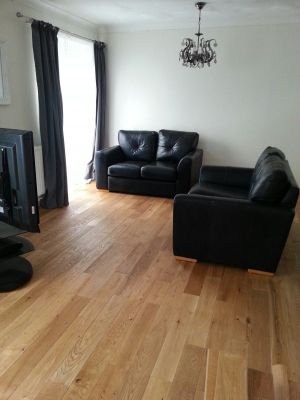 The importance of visual impact will depend entirely on the look you're trying to achieve.  At the end of the day, if you want something that looks like real wood, there's no contest between engineered and laminate flooring.
So there you have it; a whistle-stop tour of the key differences between engineered and laminate wood flooring.  Which you decide will work best for you will depend on your budget, the desired duration for your floor and whether or not you want to have something that looks like real wood or fake.
If you'd like to discuss which flooring option would suit your project best, why not contact us?