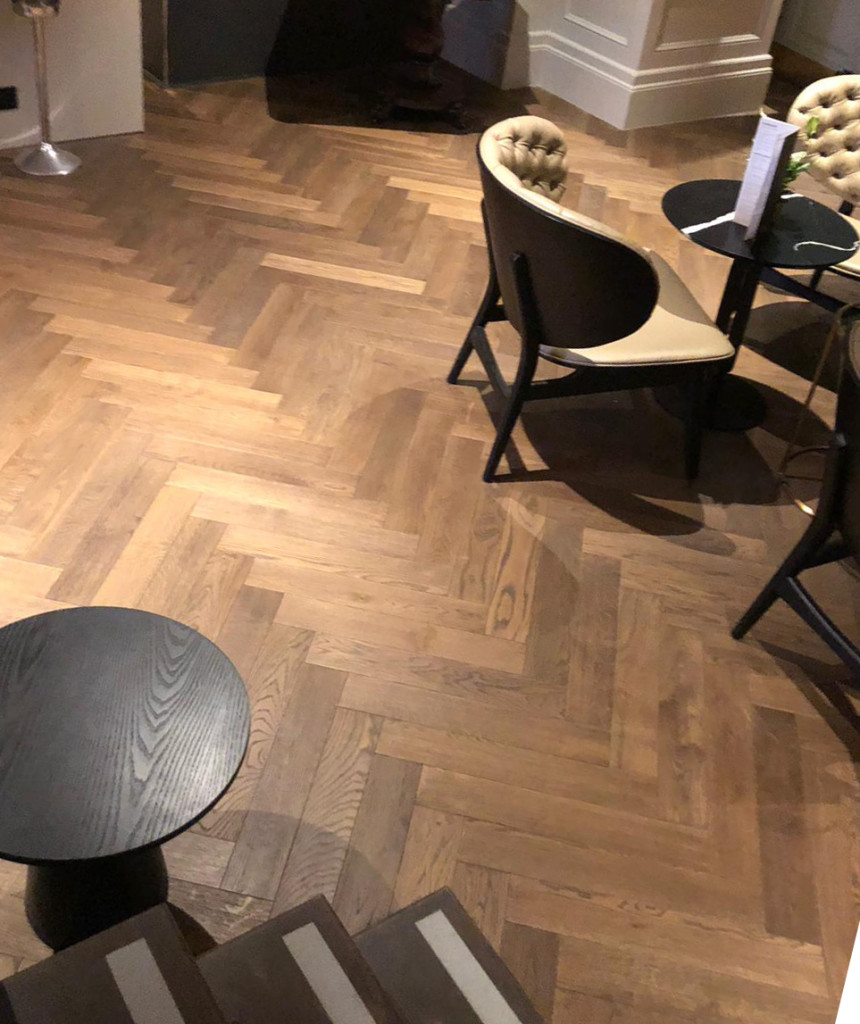 The herringbone flooring pattern has been around for centuries. Dating back to the Roman Empire, the herringbone pattern was the choice décor for Roman streets, before extending all over Europe. It's still a desired pattern in streets today.
Now you can bring that classic pattern into your home with solid oak flooring. Solid wood flooring has always been a symbol of status and elegance, and now it has never been easier or more cost effective to achieve that look so many have longed to portray and call their own.
The best herringbone flooring is made of solid oak, which provides the utmost in durability and strength for the longest lasting floor. Solid oak flooring can withstand years of wear and tear if cared for properly, and because it is solid wood, it can be refinished more than once, far outlasting any engineered or composite flooring. The individual oak slats also bring with it the wood ring patterns of traditional flooring, giving off that rustic feel of a well-built house. Shade, colour, and gloss might all vary, but the underlying markings keep to the classic atmosphere you can feel with every step.
The Appeal of Herringbone
The herringbone flooring pattern itself catches the eye immediately with its 90 degree interlocking slats, and can make any room in your home pop to life. Because it bends space to get the full effect of the pattern, herringbone flooring can look great in large sitting or dining rooms or long hallways. Regardless of the style of each room, whether it's modern or more classical, there is a finish and colour that will best suit every room of the house.
Another great quality of herringbone flooring is the locking system between each slat of flooring.  Due to the tongue and groove method of installation, there are no visible gaps between any of the slats, creating a smooth surface from wall to wall.
Try the pattern before you purchase it to see if it is the right match for you. Most vendors will allow you to request a sample piece of flooring to try in different areas of the house and in different finishes so you know exactly how your new floor will look. If that is not enough, you can always use the same herringbone pattern and install a tile backsplash in a kitchen or bathroom.
We at Wood and Beyond want you to be completely satisfied with your new floor and are here to provide any resources that can help you accomplish that dream. We know that making a huge change can be a little frightening at first so we are here every step of the way; by phone, email, or live chat on our website. When you step on your floor, we want you to know it is a Wood and Beyond floor.