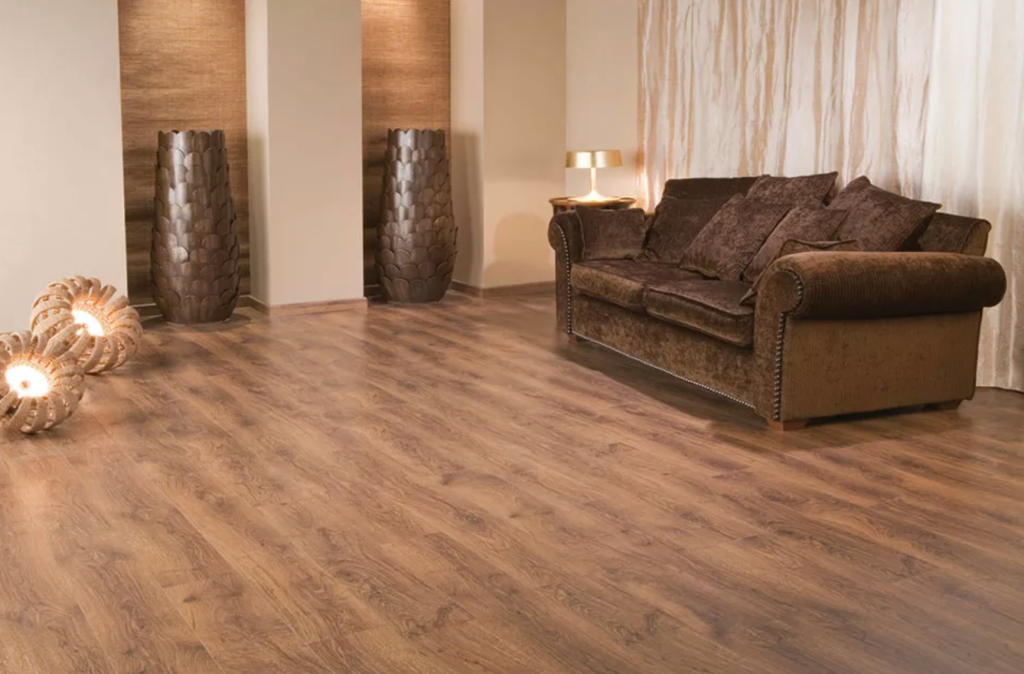 For a long time vinyl flooring got a hard time. In some ways it was justified, but what is less justified is giving it a hard time today. Vinyl has come a long way since it first took our floors by storm in the 1960s and beyond. The thing about luxury vinyl flooring today is that it is very similar in look and price to laminates, which often makes it a challenge to choose between the two. In this article we'll explore the pros and cons of each with a view to helping you make an informed choice.
How they're made
Both luxury vinyl tiles and laminate flooring are man-made, but it's how they're made and what they're made of is what makes them different. Vinyl tile floors are made 100% of plastic and laminate is made of a mix of MDF and plastic.
The cost
Both options are low cost, which makes them very attractive if you're doing a renovation or just fancy a new look in your home at low cost. While there are very cheap and slightly less cheap options, you'll generally find that the total cost of each of these two solutions come in a whole lot lower than the likes of solid or engineered wood or ceramic tiles.
Durability
When you choose luxury vinyl flooring or laminate for a busy household, you should always check with your supplier that the floor will stand up to the footfall you're likely to experience. Laminate flooring helps you do this by having an AC Level score. You can find out more about AC Levels in Laminate flooring here.
Ease of fitting
While sheet vinyl can be a bit of a challenge for DIYers to manage, the advantage of luxury vinyl flooring is that they're highly manageable and easy to lay. The same is true for laminate, which sometimes even comes with the underlay attached to the planks – making it twice as fast and easy to install.
Ease of care
When you select either of these flooring options, you know that you're choosing a solution that will be easy to look after. It's up to you whether you choose to run the vacuum cleaner over the floor prior to a light mopping or you prefer a soft broom. Either, together with a quick clean with a damp mop will keep your floor looking great.
Walk on experience
Generally speaking, some vinyl tiles are significantly thinner than most laminate. What this means is that when you fit even luxury vinyl tiles over a concrete floor, you are likely to experience a cold and hard feeling under foot. Even a lower cost laminate, which has thicker planks will generally give you a better, more enjoyable under foot experience.
Water resistance
Vinyl flooring is made of plastic. What this means is that it's water-tight. Even if you submerge it in water, it won't get damaged. This means that it's the perfect solution for wet areas or areas that are susceptible to get wet in the home. Because laminate flooring has a core board that's made of MDF, it will take in water at some point if water is left on its surface or allowed to go between the planks. What you must also be aware of is that the quality of joints and fitting will have a big impact on the water-tightness of either.
Luxury vinyl tiles vs laminate – at a glance
| | | |
| --- | --- | --- |
| | Luxury vinyl tiles | Laminate |
| How they're made | Man-made | Man-made |
| Cost | Low to mid | Low to mid |
| Durability | Low to high | Low to high |
| Ease of fitting | Suitable for DIYer to pro | Suitable for DIYer to pro |
| Ease of care | Easy | Easy |
| Walk on experience | Good | Good to great |
| Water resistance | Good to excellent | Good |
If you're debating whether luxury vinyl tiles or laminate flooring is the best one for you, why not reach out and get help from the team at Wood and Beyond? We have extensive knowledge about all types of flooring and can help you make the right decision for your unique project.