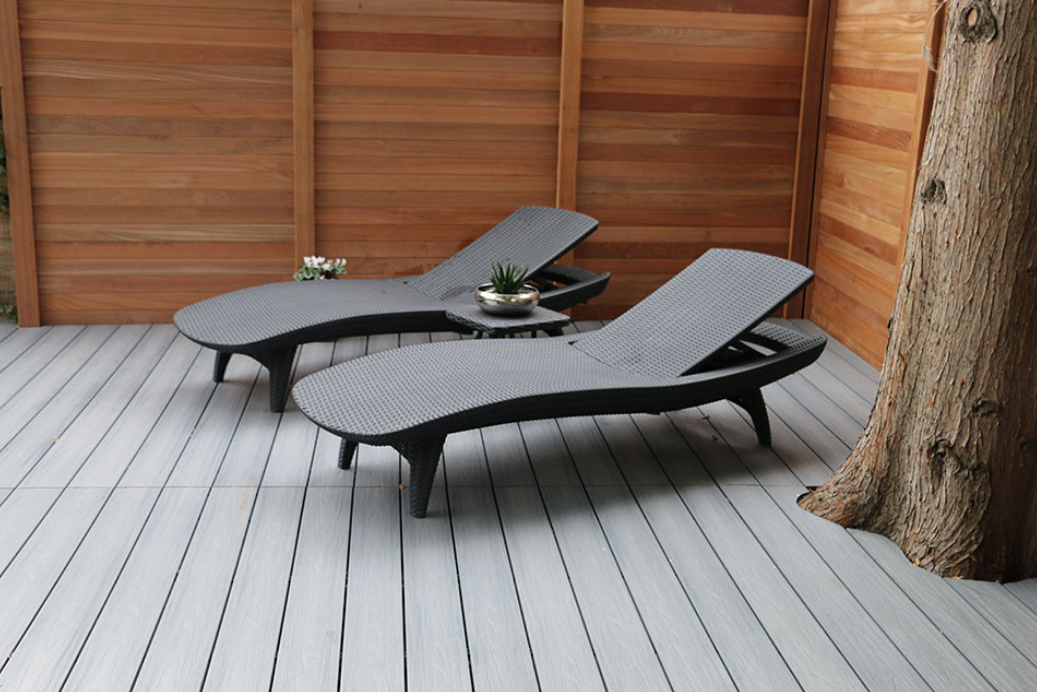 If you're planning a decking project, you're probably in the process of debating the benefits of solid wood decking over composite decking. Even if you've already made the decision to choose composite decking boards, there are still further decisions to be made. One such decision is whether to choose co-extruded decking or normal composite decking. At Wood and Beyond, we know that these decisions can be tough if you're not living and breathing decking day-in and day-out like we are. That's why we've created this co-extruded composite decking guide.
What is co-extruded decking?
Co-extruded decking, in short is a particularly high-tech decking option that boasts even higher performance than normal composite decking.
The WPC Decking that we stock at Wood and Beyond, which you can find here, is made using co-extruded technology. Co-extruded technology is, without a doubt, the most advanced technology currently being used in the composite decking industry.
When you choose a composite deck that's been created using this technology, you don't just get a great-looking end result, you get top-end performance too. A deck with a co-extruded surface is a deck that has a scratch resistance that is around 3 to 4 times better than normal decking. What's more, the water absorption of this option is 0% as opposed to around 2%, which is normal. And you also get an expansion rate which is lower than normal composite decking. All of these benefits are topped off with a wood brushing effect, that looks incredibly natural and attractive.
So all in all, what you get is an end product that will last and last for years without colour fade and without damage. Here are just some of the great options we currently have in stock:
Want a co-extruded deck that looks really high-tech?
If you've decided that you want a composite deck that looks high-tech and modern, this silver grey option is for you. When you choose this deck, you can either keep it highly minimal and modern and compliment it with black and steel accessories or create a busy, planted space with lots of contrast. It's entirely up to you. Either way, with this choice you know you're getting a deck that'll stay looking great for longer.
More in the mood for something traditional?
If on the other hand you're more in the mood for something traditional, then this dark chocolate option is likely to float your boat. A warm, natural colour, this deck will have even the purest of purists wondering if it's wood or composite. But once again, when you make this choice, you get all the extra benefits of a co-extruded deck to boot.
Wanting a light, airy and steely look?
If you have an outside space that's lacking in natural light or is in a particularly shady spot, it's highly likely that you could do with a lighting boost. If that's the case, then this mouse grey option is for you. When you choose this deck, you know you're going to get great styling, amazing performance and a sudden, yet not in-your-face light boost that will make any dark terrace or balcony come to life.
Is teak more your thing?
Teak is the traditional wood that's associated with decking and many people think if you want teak, you've got to go for the real thing. But this composite teak decking option proves just how wrong those people are. As you can see from the images on the page, this co-extruded decking solution doesn't only look like real teak from a distance, it looks like it close up too. It really is the best of both worlds.
If you're looking for a decking option where you can enjoy the best of both worlds there is no doubt that you should add co-extruded composite decking to your list. And, as always, if you'd like some help to make your final decking decision, just reach out. We'd love to hear from you and to help you make the very best choice for your unique project.